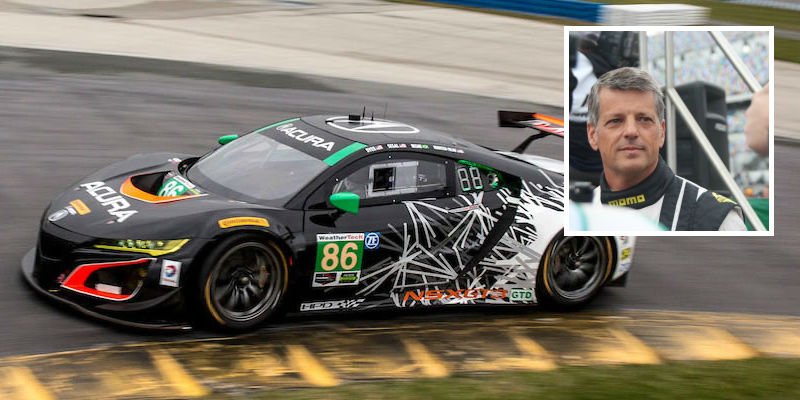 Born in Toronto, Ontario, Canada.
He is currently a factory driver for Acura in Pirelli World Challenge and the IMSA WeatherTech SportsCar Championship.
At the age of sixteen, Mark completed the Jim Russell Racing School at Le Circuit Mt. Tremblant and quickly came up to speed in his first encounter with open wheel race cars. Mark competed in the Bridgestone Racing Academy school series at Mosport's driver development track the following year, winning numerous races while continuing to develop his race craft.
It was in 2001, when Mark's motorsport career truly began. An introduction to Toronto based Aim Autosport would be the start of a ten year relationship with the team that as a duo would go on to represent Canadian motorsport talent on an International stage. Mark finished second overall in the 2001 Canadian Formula Ford Championship, his first pro championship. Over the course of the next four years Mark would go onto race throughout the United States and Canada driving in the Formula 2000 Zetec Championship, Formula Renault Championship and the Star Mazda Championship finishing on the podium in every series he entered.
In lieu of challenges impacting North American open wheel racing at the time, Mark elected to direct his focus towards sports car racing. Aim Autosport shared the same focus and the operation switched gears to run in the Rolex Sports Car Series, Daytona Prototype class. Mark and the Aim Autosport team would spend five years in this program, winning two back to back races and capturing the closest finish in Rolex series history in 2008.
In 2010 Mark was recruited to run the three American LeMans Series endurance races with Level 5 Motorsports LMPC class. Mark would go onto win the Sebring 12 hour and Laguna 6 Hour that year while claiming a fourth at Petit LeMans.
In 2012, Mark was asked to join the Kia Racing program to campaign the 2012 Kia Optima Turbo SX in the Pirelli World Challenge Series GTS class. This first year program for Kia and Kinetic Motorsports was highly successful and Mark went on to win his first Pirelli World Challenge race on home soil at Canadian Tire Motorsports Park. Mark would finish on the podium twice while finishing in the top five in most events. Capping off a great season, Mark won Petit LeMans in the PC class with Core Autosport giving Mark a victory in every ALMS endurance race.
In 2013, Mark continued with Kia Racing and Kinetic Motorsport, capturing victories in Detroit and Mid Ohio and ultimately finishing the season third in the driver's championship. Mark will once again return to the Pirelli World Challenge with Kia Racing in 2014. Mark also captured a third place finish in both the 2013 Rolex 24 with AIM Autosport and the 2013 Petit LeMans with CORE Autosport.
Despite running a limited schedule with a new car, Wilkins would pick up his first win at Mosport and finish 7th in standings. Although Wilkins would not win any drivers' titles, he did pick up multiple victories as well as the GTS manufacturers' championship for Kia in 2014.
With Kia departing PWC, Wilkins was left a free agent for 2015. For that year, he was tabbed by CORE Autosport to pilot their No. 54 ORECA for the IMSA North American Endurance Cup at Daytona. Unfortunately, the team would crash out of contention for the PC class victory in the late stages. Wilkins would reunite with CORE for 2016, taking home his second Sebring 12 Hour victory. In 2017, Mark was hired by Acura Motorsports as their factory endurance driver in IMSA.
Off track, Mark spends time coaching driver's, helping them compete in development race programs or at local track events. Mark spent the 2012 season working with the Canadian based Speed Merchants team who competed in the Porsche IMSA GT3 Cup Canada Series. The team went on to win both the Platinum and Gold class championships. Mark's strategic and calculated approach to driver development was instrumental to helping the Gold class champion achieve his first championship.
Mark takes part in the annual Children's Wish Foundation event at Canadian Tire Motorsport Park, which provides children with life threatening illness' with their wish of lapping the race track in the exotic car of their choice.
Mark enjoys staying active off the track and has a keen interest in winter activities such as skiing and snowmobiling.
AIM 2011 Rolex Sports Car