October 24, 1921 -
November 23, 1960
Ted Hogan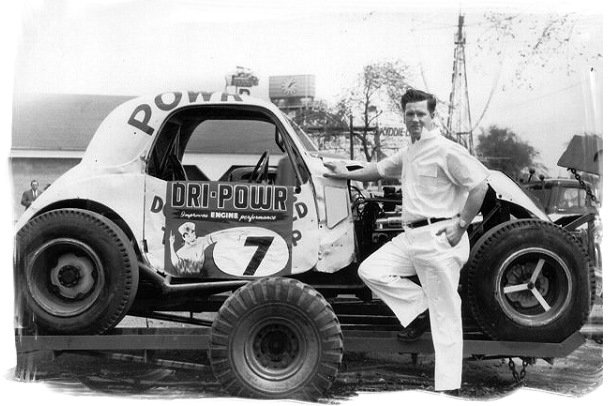 Born in Toronto, Ontario, Canada.
Ted Hogan was Canada's best known stock car racer in the rough-and-tumble days of the sport. Known as "Terrible Ted" or "Mighty Mite", Hogan chalked up a record 37 feature wins and a number of track titles at the CNE between 1954 and his death. Although there was racing at the CNE for five more years, no one ever matched Hogan's mark.

For myself the name Ted Hogan has a personal touch. My grandmother was a house keeper for Ted and his family, and I grew up listening to my Dad talking about the days when Hogan dominated the race tracks like the CNE and Pinecrest.
Exhibition Stadium and the Pinecrest track on Hwy. 7 are long gone, but the roaring thunder of dozens of cars and the cheers of the thousands of men, women and children who filled the stands still echo in the minds of all who were there. And Hogan, winner of more than 100 feature races, is still the hero and in the news.

In their day, most had nicknames: Howie "Scooter" Scannell, "Gentleman" Jim Howard, Ted "Pops" Gilbert, "Stormin'" Norman Lelliott, "Quick Vic" Parsons, Smiling" Jack Greedy etc. Ted's tag was "Terrible Ted" but people who the man, knew better. Hogan was a fierce competitor, but he cared about the safety of fellow drivers.

To fans in the stands, he was a local hero, so it was only fitting he was the one who drove Billy Clemens to Northwestern General Hospital at 110 mph in his private car following a fiery crash at Pinecrest on Aug. 10, 1957. Clemens, 30, from Mishawaka, Indiana, was on a warm-up run for Pinecrest's fifth annual 75-lap International championship when he crashed into a wall at 85 mph. It took 15 minutes for drivers to pull him from the wreckage. An ambulance wasn't available, so Hogan used his car to drive the badly burned Clemens to hospital. Unfortunately, Clemens died 16 days later.
Ted Hogan died when the airplane he owned and piloted caught fire and crashed into Lake Ontario off Port Union Road. Bruce Tanner, a friend and former driver, was also killed. Hogan, 38, left a wife, Bernice, and six children - Wanita, Sandra, Sharon, Stephen, Michael and Mark. Stephen raced at Sunset Speedway in Stroud and Sutton Speedway in the early 1970s.
Hogan had just come off winning the points championship and was at the top of his game at the time of his death. He was not forgotten. Glen Schurr took over the Hogan car and about 40 drivers participated in two Ted Hogan Memorial Night races on July 4, 1961, won by Phil Major and Jim Warren.
Ted Hogan was inducted into the Canadian Motorsport Hall of Fame in 1996.