June 10, 1940 - July 2, 1962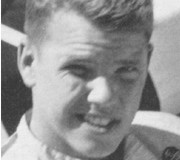 Born in Philadelphia, Pennsylvania, USA.
Ryan was an American-born Canadian racecar driver from Mont-Tremblant, Quebec. An outstanding skier, Ryan shifted to auto racing in 1959 after a ski crackup in which both his legs were broken. A sportscar racer, he competed in races like the 12 Hours of Sebring and the 24 Hours of Le Mans. Ryan also had a short Formula One career.

He was the first Canadian winner of the inaugural Canadian Grand Prix, in a Lotus Monte Carlo-Climax, held at Mosport on September 30, 1961, when it was a non-Championship sports car race. Second that day was Pedro Rodriguez (Ferrari V12) and third Stirling Moss (Lotus Monte Carlo).

The win at Mosport led to an invitation from Colin Chapman to drive a Lotus in the 1961 United States Grand Prix. He became the first Canadian to compete in a Formula 1 Grand Prix, the 1961 United States Grand Prix at Watkins Glen, where he drove a non-works Lotus, finishing 9th. He scored no championship points.

Ryan was killed during the Coupe Internationale des Juniors Formula Junior race in Rheims on July 2, 1962 after colliding with Bill Moss which caused both cars to veer off the road at high speed and crash. Moss survived the accident, but Ryan's injuries were more severe and he died in a Paris hospital shortly afterwards. Ryan was only 22 years old, which meant that a long future ahead of him was tragically cut short.

Peter Ryan was inducted into the Canadian Motorsport Hall of Fame as one of the initial inductees in 1993.